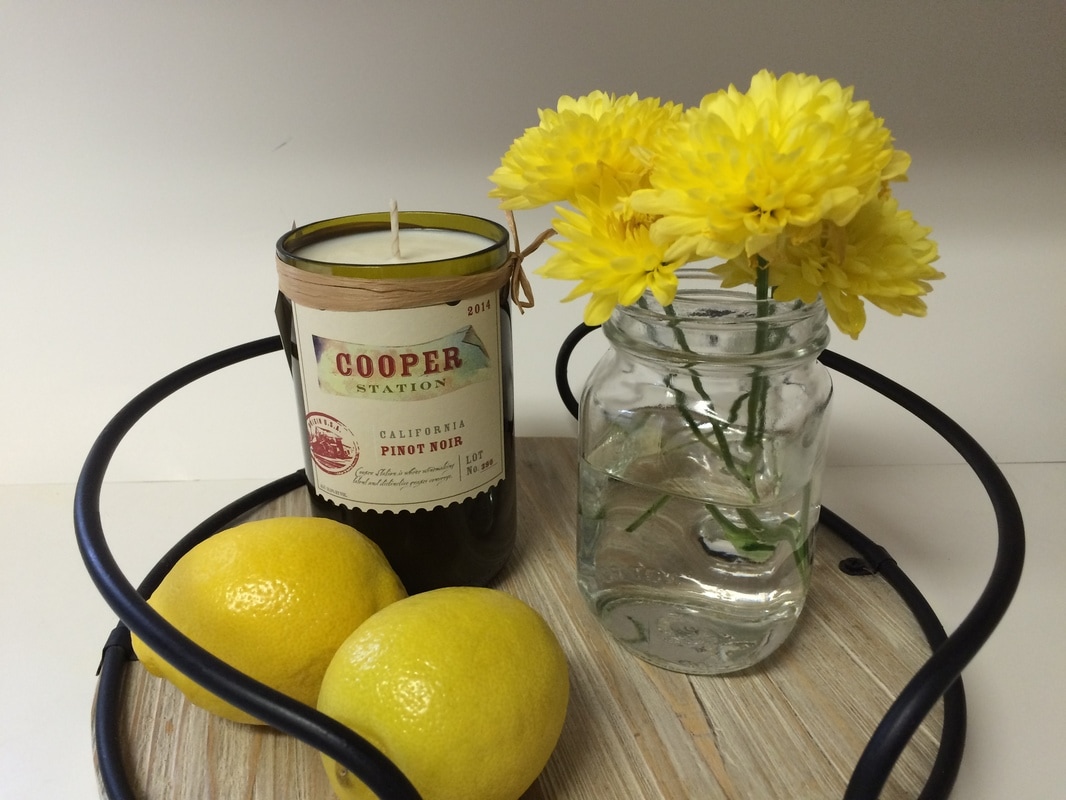 Medium Size Candle
$22
*16-18 oz. Soy Wax /95+ Hour Burn Time
*100% Soy Wax
*Repurposed Wine Bottle
*Premium Grade Fragrance / Phthalate free
*Handcrafted in Acworth, GA

---
---
---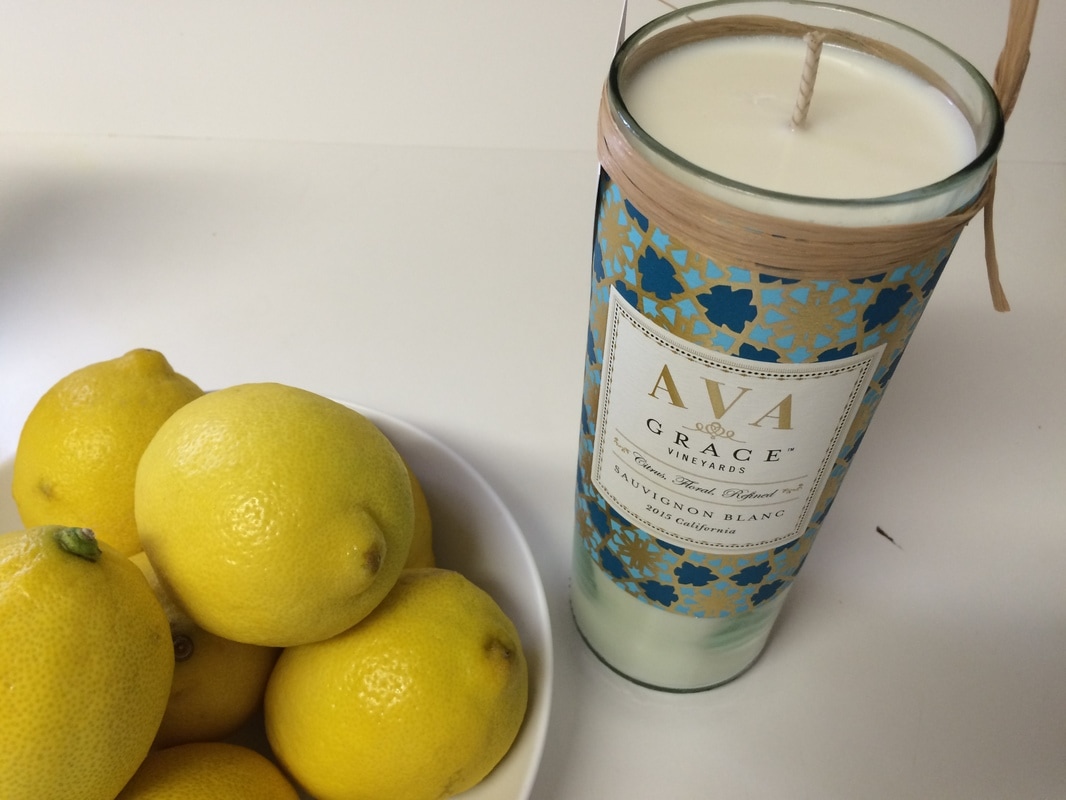 ---
Tall Size Candle
$27
*20-22 oz. Soy Wax/ 150+ Hour Burn Time
*100% Soy Wax
*Repurposed Wine Bottle
*Premium Grade Fragrance / Phthalate free
*Handcrafted in Acworth, GA



---
---
We love custom candles!

---
"CUSTOM CANDLES"
(from your bottles)
A life-long keepsake that can be refilled again and again!

Email Bonny with custom enquiry
*Medium size custom candle - $22
*Tall size custom candle - $27
*Turn-around time is about two weeks

(Shipping of the bottle and candle are the responsibility of the customer.)
*Disclaimer:
Bottles can crack on occasion during the cutting process, as the glass is heated. We are as careful as possible, but please be aware of the risk before shipping a precious bottle. We do not refund shipping costs if this occurs.




---
CONTACT US

---
CONTAINER REFILLS
At Vino-Eco we're all about reusing. We can fill your favorite container again and again. Prices are based on weight. Contact us for a quote.

---
---
WINE STAVE ART, "Tea Light Candle Holder"
"from the head of ed" in Washington State.
Made from the staves of wine barrels that have been used in the making of wine. The red wine has soaked into the wood and stained the underside red.
Aprox. 3.5 inches squared and no two exactly the same.
The wood is lightly sanded and edges rounded to make a smooth surface.
Coated with polyurethane.
Felt feet are added to the bottom.
Packaged beautifully and ready for gifting.
Boxed with a tea light, glass holder and two recycled wine corks made into magnets.


"Fragrance descriptions"

Fig - The sweet desert fruit-refreshing and lightly floral. (Our best seller)

Merlot - Robust cherry/berry blend with oak overtones - just like the wine.

Red Currant - If you love Votivo, you'll love this berry, currant scent.

Clean Linen - Crisp and clean, one of our stronger fragrances.

Lavender - Refined, yet simple - this traditional scent will transport you to Provence.

Naked in the Woods - Sun warmed figs, Italian Bergamot and White Tea leaves are
entwined with notes of Jasmine, Sweet Heliotrope & Sandalwood.
(Also named "Tuscan Twilight" if you prefer.)

Bergamot Citrus - Crisp green earthy citrus scent, with top notes of sweet orange and bergamot,
mid notes of Italian mandarin, jasmine and green water lily and base notes
of cypress, oak moss and Moroccan cedar.

White Tea & Ginger - Blend of delicate white tea with fresh and slightly spicy ginger.

Sangria-White Peach - This sparkling fragrance is a wonderful blend of red wine with slices
of ripe peach and juicy orange.

Sun & Sand - Tropical beach breeze of sweet orange flower, lemony citrus, fresh
lavender & powdery musk.

Coconut Lime Verbena - Be whisked away to paradise with this luscious blend of
coconut, lime and fragrant verbena; warmed by vanilla and musk.

Brown Sugar & Fig - An inviting warm fragrance with notes of fresh fig, cedar, coconut
milk and musk.

Apple & Oak - A blend of tart granny smith apples, with soft notes of McIntosh apple,
mixed with woodsy fresh oak leaves & Oak moss.
(Most popular fall fragrance…some stores carry year-round)

Blue Spruce - Capture the spirit of the holidays with this nostalgic evergreen fragrance.

Victorian Christmas - Clean pine notes -mid notes of rum fruitcake & top notes of clean
soft florals. The finish is apple cider - makes this the epitome of the holiday
aromas. (also called Market Spice, to carry all year.)

Unscented - For customers with sensitive noses.